Engineering is international and so is our school!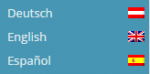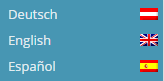 We would like to inform you about our technical and vocational college for upper intermediate levels and point out the variety of activities and projects we are involved in.
At our school students are taught English, in some classes they can choose Spanish as an option. Technical subjects are also partly being taught in English. Therefore we would like to present ourselves in these two languages as well. Simply choose your desired language by pressing the flag symbol.